Canvas Stretching
We stretch canvases from all over the world. We use two standard 20mm and 34mm profiles with all larger works being braced for strength.
Stretched canvases can also be framed using a float frame, which gives the artwork a minimalist contemporary look.
Artists Blank Canvas Stretching
We stretch blank canvases from 300mm X 300mm up to 5000mm X 4000mm using quality stretcher bar, fully braced and artist grade 8 or 12 ounce canvas.
Artiteq Hanging System
We use and recommend State of the Art Artiteq Hanging Systems for a contemporary, clean finish to hang your artwork. This system eliminates the need for use of individual hooks for each painting.
We can also arrange installation.
Pre Made Frames
We offer pre made frames in black and white.
Available sizes – A4, A3, A2, A1
Glass Replacement / Frame Repairs
Dropped or damaged your frame, broken the glass?
Bring it in to us to have it repaired.
Some frames may be beyond repair or no longer available, so we can recommend the best course of action.
We can also provide insurance quotes for you.
Layby
3 months – Terms & Conditions Apply.
Delivery of artwork
Art too big for the car we can arrange delivery for you. P.O.A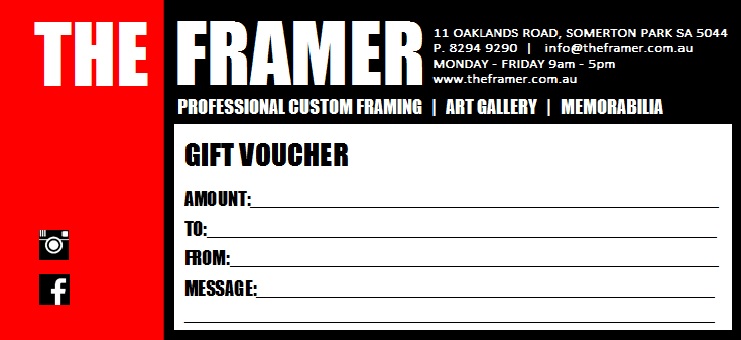 Contact us with your request
TRADING HOURS:
MONDAY – FRIDAY 9.00AM - 5.00PM
ADDRESS:
7 OAKLANDS RD, SOMERTON PARK SA 5044, AUSTRALIA